2017-12-15
Hi!
This time I've made outfit for AF sims inspired by Chinese Tang Dynasty era.
These pics were my references:
And these are the clothes I've made (only in-game pics, sorry)
I've read that women who had "curves" were considered more beautiful in Tang era, thus my mesh is slightly different from standard Maxis.
Comes in 5 colors, no morphs (again, sorry, but feel free to add them), for AF, poly is 2716.
Play as you like (recolor, add, remesh it as you like), just keep it free for everyone (and credits are nice too). Made from Maxis parts and with Bloom's push up (thanks!!!) and my textures. Please enjoy playing!!
DOWNLOAD
2017-12-10
Hello!
I've made two new clothing meshes based on historical Korean garb from Baekje and Silla states.

Both are for AM & EM, no morphs.

First one is from Baekje (Paekje), and is based on picture from Korean Museum (that I found online, but can't remember where
). Comes in three colors. I really cannot remember if this outfit was worn in Goguryeo too, but sims don't mind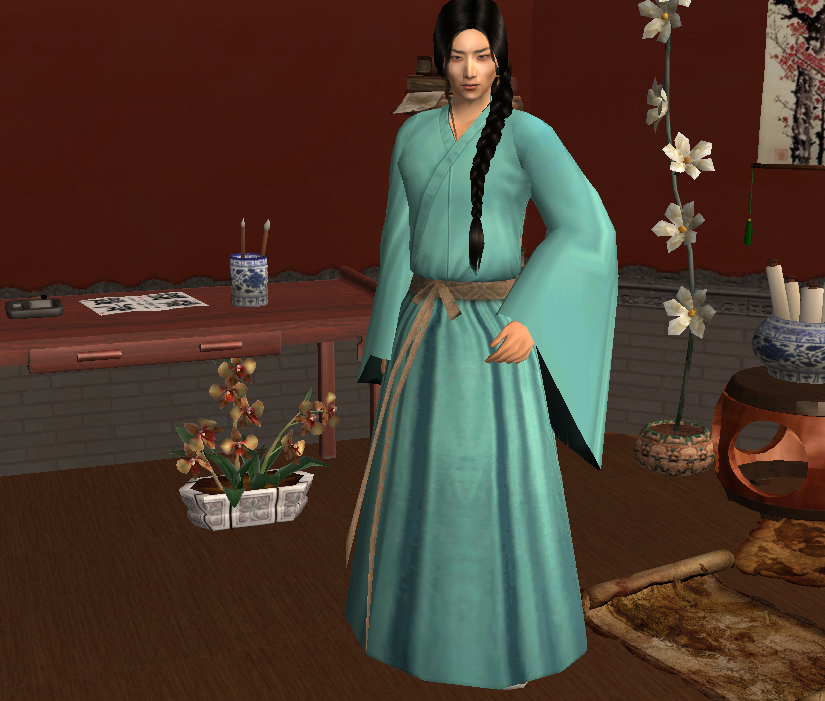 And the second one is loosely based on costume I also found online, from Korean drama about Hwarang (literally "Flowering Knights"), thus the name of the mesh.(Haven't watch the drama though....)




I recolored it in 4 colors, the first one is Hwarang-based, others are my designs. I think this outfit can be useful for Chinese historical sims too.
Sim on the pictures (download him here) is wearing earrings, because I've read somewhere that men in Ancient Korea actually wore earrings.
I've used Maxis meshes for these outfits, and poly for both is around 2000, so it's low.
Please enjoy playing!

DOWNLOAD BAEKJE/GOGURYEO OUTFIT

DOWNLOAD HWARANG OUTFIT


2017-11-29
Hello!

I've made these outfits ages ago, but somehow I forgot to share them

So here is something for the ladies...
Two outfits for AF: one is yukata with hakama, and the other one is for workout (Bloom's cleavage included). Both are made from Maxis parts. Both come in only two colors, but you can recolor/mesh/add/chop them however you like.

The first..




The second one...




And I'm also sharing lovely lady from the pictures...here she is>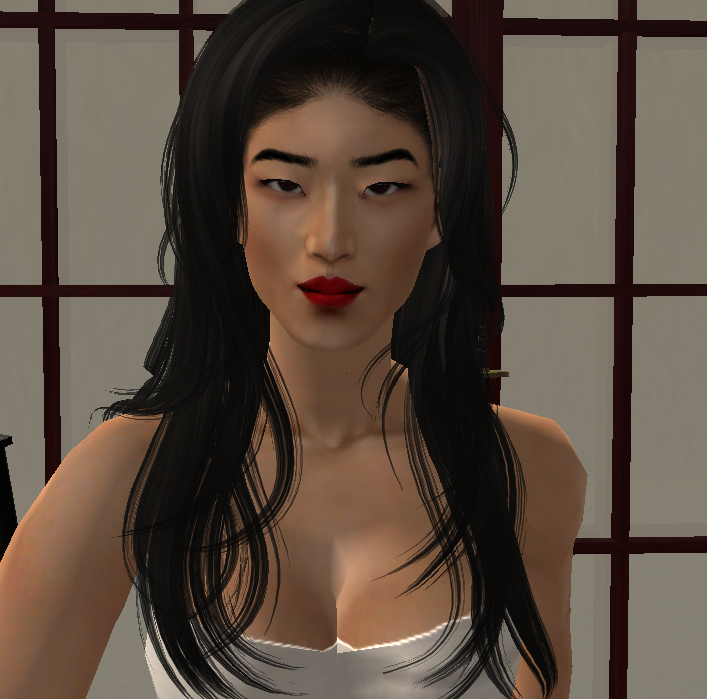 She is packed in Maxis yukata as seen above, and her red lipstick is OFB game I think, but default replaced with these. So If you want those lips, you need to get them @ Antka's tumblr. Tattoo on her back is from overlay box @GOS. Tattoo is not included. CC list is included in download file, and many thanks to all the CC creators, who made the stuff that I used.

Play nice and give credit if you remake my meshes (it would be nice to do so).

Download here from folder @ SFS

or

Download AF sim

Download outfit yukata+hakama AF

Download workout outfit with Bloom's pushup AF



2017-11-25
Hi!
Recently I haven't been creating much (
RL problems-my cat got hurt
), but here's little something...
I've made a new clothing mesh for AM sims, from Maxis yukata and 3D object (from AION?) that awesome
Wawa (from PBK)
sent me ages ago. I've had to assign ALL the bones to the lower part, so...
Comes in 6 colors: black, grey, white, white with ornaments, crimson and blue. Poly is near 3500 I think. For AM, no morphs.
Also, I'm sharing two male sims from pictures, that I've named after famous Korean hwarang generals: Yusin (left) and Alcheon (right).They are packed like here...
And just for fun ... this is how they would look in modern setting
Enjoy playing!!!!!
Korean outfit download

Yusin AM sim
Alcheon AM sim
2017-10-31
Hello!
Halloween is here so I prepared some gifts (treats)!


I'm sharing my new mesh - outfit for Catholic priests. I've noticed that simple priest outfit for TS2 is hard to find so I made one...And it fits Halloween theme...think about all those horror movies like The Exorcist. This one is based on costume from Korean movie "The Priests" worn by character Deacon Choi (played by my fav k-actor Kang Dong Won). Comes in two versions: normal and with blood stains (spooky edition). This movie is great to watch on Halloween, I highly recommend it !

It's for AM, without morphs, but anyone can edit it or add morphs, so go ahead you have my permission!

Preview in bodyshop...





Pictures from game are below>>>

Next, there are some sims...

Now I needed sim to wear these outfits, so I made one based on character played by Kang Dong Won. Here are some pictures, but he's packed in short-sleeved priest outfit.



And just for fun...Because it's Halloween
Dressed in Halloween style!




Next, two sims born in-game, but I find them more handsome than most of my pre-made sims.
Shin & Aoi (random names, no reason).

Here's Aoi>


Packed like this>




Shin comes in two versions: ordinary and as a pale, handsome vampire sim (I've made a vampire skin for that purpose, which is included). Ordinary version includes the first outfit >>>



And Halloween style...

He is packed in red coat as seen on last picture. He wears no make up, so that's how this skintone looks like (I used Mouseyblue's skin as basis). Only for AM sims, other stages will have Mouseyblue original pale skintone, sorry.

Sims are packed in clothes made by Yuxi, Kairisu, mdpthatsme and me. Aoi's skin and Shin's vampiric skin are my blend (on Mouseyblue basis). Lovely poseboxes that I used are made by Cassis! Many thanks to all the creators!!!!

You can download everything here>>>

Priests outfit

Choi sim (priest)

Aoi sim

Shin sim
Vampire Shin

Vampire (undead) skin only for AM

Or if you prefer link to folder containing everything.
There's a CC list for every sim included and everything is labeled for convenience.

I hope everyone will have a great Halloween!!! Play as you like and please enjoy! Happy Halloween!!!
Powered by FC2 Blog
Copyright © The Sims 2 Time Travel All Rights Reserved.